Choose Spring Valley Montessori
Our award-winning preschool program is conveniently located near the DC-Maryland border, allowing us to serve the families of Bethesda and Chevy Chase, Maryland, as well as those in northwest DC. We invite you to explore our website to learn more about who we are and what we can offer your family. Feel free to contact us with questions or schedule a tour. We look forward to meeting you!
Developing a Firm Foundation
At Spring Valley Montessori Academy, we are dedicated to providing families with quality, first-school experiences for two-to-five-year-olds. Our amazing teachers work with children in small class settings, employing Montessori and creative learning methods to meet the needs of our diverse group of learners while building a firm foundation for learning.
Educational Philosophy
SVMA employs the guiding principles of safety and kindness in each of our learning environments. We expect both teachers and students to be kind to self and others and to make safe choices. Our environment and materials are designed to attract and engage children in play, and while children are free to use these spaces to work with purpose, socialize, or explore, we expect every child to be responsible with that freedom.
Preschool is a time of learning and discovery through play—not a time of conformity. We recognize that children who demonstrate poor behavioral choices are usually bored; therefore, we redirect them to a productive activity that better suits that child's interests. We never result to corporal punishment, isolation, or verbal abuse (threats). We invite you to see this philosophy in action and envision your child thriving in one of our classrooms by visiting us during Open House.
Parent Involvement
Spring Valley Montessori Academy values the partnership between parents and school. We welcome parents and grandparents to share in the life of our community through various opportunities such as our grandparent visiting days, our Halloween parade, or our guest reader program. Volunteers organize service projects such as treats for troops and supporting homeless shelters. They share their talents and organize sports clinics. We invite parents to join the teacher appreciation committee, circus day chaperones, and teddy bear tea team. To continue the connection outside of school, we host events at Westmoreland Park, neighborhood restaurants, and homes. We welcome everyone to join the fun and support our community!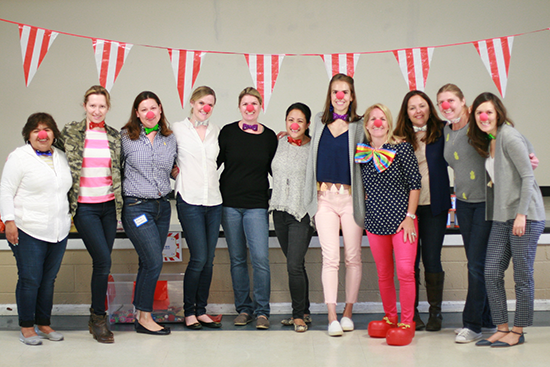 Testimonials
I just felt compelled to take a minute and let you know how happy I am with Spring Valley Montessori Academy. Luke loves going to school everyday and everyday comes home excited about [what] he has learned...He walks around the house signing songs from school and [telling] me about shapes, planets and the universe, dinosaurs, letters and their sounds...He is really happy at your school, [and] I just wanted to say thank you for providing such a wonderful first school experience for Luke!
-Robin
We are so happy that Momoka enjoyed her time at SVMA. As a credit to all of you, Momoka learned English quickly and we are so proud of her. We are returning to Japan this summer and are sad to say good-bye, [but] we know Momoka will treasure the invaluable learning experiences she had with you. She will forever associate this great country of America with the wonderful people and friends she met at Spring Valley Montessori Academy.
-Mimeko Shimodaira
My husband and I are thrilled with the school, and the teachers, staff, and education [our son] is getting! He loves going to school, and we have seen such a change in him—counting, letters, talking—everything! It is such a joy to pick him up after school and see what new thing he has done and learned. Thank you for everything!
-Susanna
Congratulations on the Best of Bethesda award! Spring Valley Montessori Academy really is the gem of Bethesda. Your teachers are always so friendly, professional, and detailed. They have the unique ability to establish solid relationships with both children and parents. Every day is filled with creative and valuable learning experiences. I love all of the songs and masterpieces sent home in the totes. The preschool years fly by, and I cannot thank you enough for all that you do. I sing the praises of Spring Valley Montessori Academy every day. Congratulations again!
-Laura James